Making a Difference in Patients' Lives and Smiles
Relieving a patient's dental pain, restoring a person's ability to chew comfortably and properly, and improving his or her oral and overall health are all very rewarding. However, changing the way the individual feels about himself is priceless!
I believe in caring for each of my patients professionally and compassionately. I focus on conservative dentistry by saving as much natural tooth structure as possible. This approach is called biomimetic dentistry. Patient education is an integral part of my practice. I want all my patients to learn about their unique oral health concerns and how those affect overall wellness. Together, the patient and I develop a unique treatment plan derived from a comprehensive exam and prescribed X-rays and photographs.
I enjoy seeing my patients and look forward to their visits. Besides caring for their oral health, it's a good time to catch up on their news. Being a dentist is more than treating teeth. It's about helping people.
Education, Continuing Education, and Credentials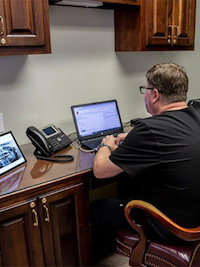 Bachelor of Science in Textile Chemistry/Polymers – Georgia Institute of Technology
Externship in oral surgery – Cairo University Faculty of Dentistry, Cairo, Egypt
Doctorate of Dental Medicine – Medical College of Georgia
AAFE trained and state licensed for injection of Botox® and dermal fillers
AIC Basic certification for the surgical placement of dental implants
Biomimetic dentistry enthusiast
Member of the ADA and GDA
Licensed in Georgia and Tennessee
Since I believe my patients deserve the best treatment options, I constantly pursue continuing education opportunities. The science of dental materials, techniques, and technology changes rapidly. I want to make sure I am current on the developments so my patients always receive the best of care.
I have attended many courses in advanced cosmetic and restorative dentistry, dental implants, and oral pathology. A materials and polymer chemist by degree, I frequently enjoy reading and learning about the chemistry of bonding agents and dental materials. I am also a past president of the Dalton Dental Study Club.
Community Service
I have participated in a dental mission trip to Guatemala and have volunteered my professional services at the Whitfield County Health Department. On two occasions, I taught a Boy Scouts of America class about dentistry. Upon completion, the scouts achieved the dentistry merit badge.
Personal Life
I was born and raised in Rome, Georgia. My family then relocated to Harriman, Tennessee. We resided in Harriman before moving to Dalton. I finished my last two years of high school at Dalton High School.
When I'm not working, you'll often find me reading about dentistry. I enjoy playing golf and gardening. I'm an avid Georgia Tech athletics fan!