Botulinum Toxin & Dermal Fillers
Botulinum Toxin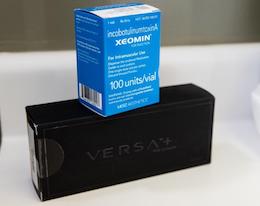 Noticeable results, no surgery, and no recovery time – discover the benefits of botulinum toxin at our practice.
What is Botulinum toxin?
Botulinum toxin is a medication that can only be prescribed to you by a healthcare professional. It is used as a temporary treatment for patients between the ages of 18 and 65. Botulinum toxin treatments are quick and comfortable, and within hours you will begin to notice a difference in the way your skin looks and feels.
How does botulinum toxin work?
Botulinum toxin uses a special protein to block overactive nerve impulses, restricting muscle contractions. In doing so, botulinum toxin helps to relax the muscles beneath the skin, so that fine lines and wrinkles become less visible, giving the skin a healthy, more youthful appearance.
Depending on each individual case, the results can last between one and six months. Treatment is temporary, and once the botulinum toxin begins to wear off, the skin will return to the way it looked before treatment.
Botulinum toxin is also used to relieve symptoms of TMJ, as well as provide comfort to patients receiving dental implants. In each case, botulinum toxin is used to reduce the amount of stress placed on the teeth and jaw so that patients feel comfortable and confident.
Am I a good candidate for botulinum toxin?
Botulinum toxin may or may not be the right treatment for you. The best candidates for treatment with botulinum toxin are:
Between the ages of 18 and 65
Diagnosed with, and experiencing discomfort from, TMJ
Concerned with removing wrinkles and fine lines
Looking for a non-surgical skin treatment
Aware that botulinum toxin results are temporary
In good physical and psychological health
Willing to discuss their concerns and desires with their dentist before treatment
If you feel that you are a good candidate for a botulinum toxin treatment, and are interested in learning more, please contact our practice to schedule a consultation. We will be happy to answer any questions you may have.
Dermal Fillers
Dermal fillers are an increasingly popular means to help reverse the changes associated with aging. Because the goal is to return the dermis to its original youthful state, dermal fillers can give a more natural appearance than surgical face lifts. Dermal fillers can be used to reduce or eliminate wrinkles, raise scar depressions, enhance lips, and replace soft-tissue volume loss.
Dermal fillers are substances that are injected just below the surface of the skin to fill in lines, wrinkles, and scars. Unlike face lifts that stretch the skin, fillers add volume for a more natural, youthful appearance. Fillers can also increase the fullness of the lips and lessen the downward slant of the corner of lips. The most common areas treated are the smile lines around the nose and mouth, fine lines above the mouth, frown lines between the eyes, and acne scars.
Why see our office about dermal fillers?
Dr. Battles has undergone extensive clinical training in the administration of injectable facial rejuvenation treatments and can discuss ALL of your facial/aesthetic concerns, including your smile and teeth.
Are dermal fillers safe?
Dermal fillers approved by the Food and Drug Administration (FDA) are minimally invasive and generally very safe. Side effects are uncommon, but it is important to contact your doctor to discuss any allergies or interactions.
How long do dermal fillers last?
The effect of dermal fillers typically last anywhere from six to 12 months at which point the procedure needs to be repeated. The procedures take anywhere from five to 15 minutes.
Contact our office to learn about improving the look of your smile with dermal fillers.